The Gambia
Officials at a polling station prepare to count votes in The Gambia's presidential election (2021). This was the first presidential election in The Gambia since the long-standing dictator Yahya Jammeh was ousted from power in 2017. Credit: Sally Hayden / SOPA Images/Sipa USA
International IDEA, with support from UKFCDO, implemented a project entitled "Support to Peaceful Election to the Gambia". The project had two interlinked phases. The first one was from July 2021 to January 2022, and the second from February 2022 to March 2022.
The first phase of the project was to support peaceful presidential elections in the Gambia through policy and political dialogues, outreach initiatives, knowledge generation and capacity building (training) for civil society organisations (CSOs) and media. One of the major results of phase one was the development, acceptance and monitoring of a Code of Conduct (CoC) for the presidential elections. The development of the CoC for the presidential candidates was participatory; through political dialogue and consultative processes involving all political party leaders and other relevant stakeholders such as CSOs, faith-based groups, traditional leaders and media. The CoC was accepted and signed by the six presidential candidates on 11 November 2021.
Phase two of the project aimed to contribute to the peaceful parliamentary elections that took place on 9 April 2022. A major result of phase two of the project was that 85 per cent of the candidates from all 53 constituencies accepted and signed a CoC for candidates in the parliamentary election. This CoC was also developed through a participatory process characterized by political dialogues and consultations involving all electoral stakeholders, particularly political party leaders, independent candidates, The Independent Electoral Commission (IEC), CSOs, faith-based groups, traditional leaders, the media, and security agencies.
Basic information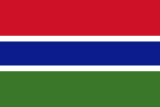 Updates
Publications
Events
Our experts
Roba Sharamo
- Director for Africa and West Asia
Director for Africa and West Asia
Dr Roba D. Sharamo is the Regional Director for Africa and West Asia. Dr Sharamo, has over 23 years of experience in international peace and security, conflict resolution, mediation, negotiation and diplomacy where he worked in senior management…
Maurice Mboula Jean-Claude Didier Enguelegue
- Senior Programme Officer, Africa and West Asia
Senior Programme Officer, Africa and West Asia
Maurice Enguélégué is a Professor of Political Science and has taught for 20 years in French universities (Amiens, Bordeaux and Douai) and in Cameroon at the International Relations Institute. He also worked for the French Government as a Technical…